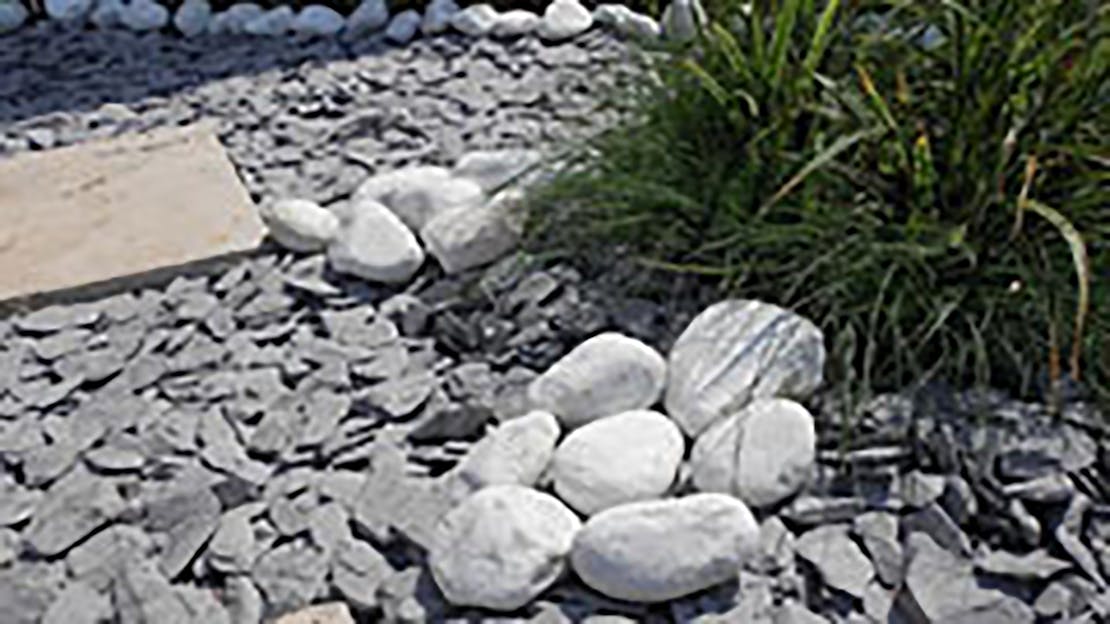 How To Maintain Your Aggregate To Keep It Looking Fresh
Looking for tips & tricks on how to maintain your aggregate garden to keep it looking fresh? This guide tells you everything you need to know so that you can maintain your aggregates.

Choosing The Right Aggregates
Choosing the right type of stone for your garden project can have a huge effect on how much maintenance is needed going forward. Harder chippings like Flint tend to be more durable against wear and tear. Softer chippings such as Cotswold, whilst still lasting a very long time, will occasionally need topping up where nature has caused more wear.
The size of the stone can also have slight effects on maintenance needs, larger sized chippings tend to provide a more comfortable surface for walking on whilst not getting stuck in the grooves of shoes, meaning they are less likely to be walked away from your project area. Selecting an angular stone will also help the stones to lock together therefore forming a flatter, levelled off surface. Rounded stones tend not to lock together quite as securely meaning there may be movement leading to thinner spots. To regulate this a high quality metal rake is best for moving stones around and leveling them off.
It is important to remember that certain stones may take on a difference in appearance when dry compared to when they are wet. Most stones have a more vibrant look when they are wet and freshly washed, compared to a slightly dusky appearance when dry. Stones can be cleaned to remove as much of this dusky appearance as possible however, there may always be a change from wet to dry.
Keeping Weeds Under Control
The easiest way to keep a fresh looking garden is to stop weed growth. Following our guide 'How to prepare and lay your aggregate' will give the perfect solution to any weed problems. Using landscaping fabric and weed membranes detailed in the previous guide will tackle this issue to upkeep your garden. Using weed killer products are a productive alternative to fabric and membrane where they aren't suitable. Weed Killers will also assist where any wind-swept seeds have found their way into your garden. Stopping any compost or soil sitting above the fabric or membrane will also help to keep on top of this issue.
Keeping Your Aggregates Clean
Keeping on top of cleaning your stones will help to maintain the desired appearance. Using a metal rake and an outdoor brush with tough bristles will help to remove any debris such as leaves, twigs and dropped flowers. Rinse stones initially using a garden hose. Warm water would be ideal if available however, cold water will also work if that is all that is available. To remove any tough stains warm water with white vinegar, horticultural vinegar or a patio cleaner is advised. To target direct stains, a hand held tough brush can be used to aid removal. Allow the solution to sit on the stones for a short period of time (specified on the cleaner instructions) before rising away using either the same garden hose or a pressure washer. If using a pressure washer, it is advisable to choose a wide-angled wand on a low pressure setting to avoid any stones flying away. Ensure to follow safety recommendations as per your pressure washer instructions.
Carrying out this cleaning process on a regular basis will avoid any moss build up which can cause stones to become slippery especially when wet. Should any moss build up occur, the easiest way to remove this is by making up a solution of 90% warm water and 10% baking soda, leaving it to sit overnight and then cleaning away the following day using the above method. A baking soda solution can also help to maintain the colour of white aggregates such as White Spar.
That concludes this guide and all the ways in which you can keep your aggregate garden well maintained. If you are looking for more information on aggregates or any gardening information, then check out our full range of high quality articles & guides!