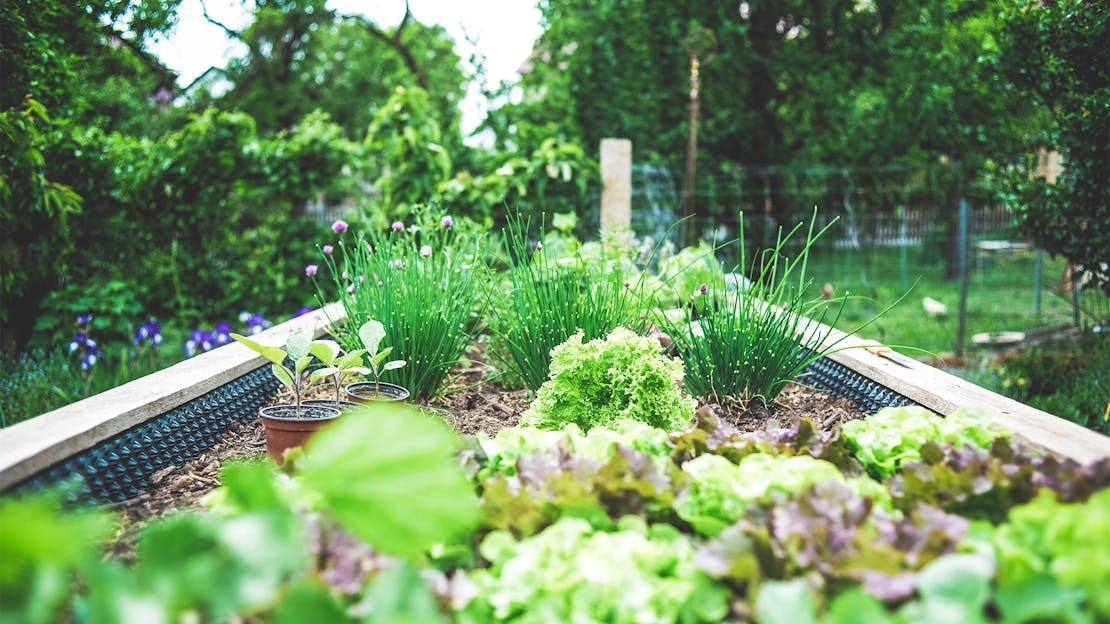 Garden Diary - June
With June here there's not only a rise in sunny days and hotter temperatures but also a plethora of new jobs that can be done. In this gardening diary we'll be going through all of the prime jobs in June that you can be doing to make your garden look phenomenal, while also helping to improve the surrounding environment.
Maintenance & Protection
Maintaining and protecting what you have already created is one of, if not the most important thing you can be doing for your garden. So we'll start with some jobs you can be doing to help accomplish this! Firstly if you have any perennials that have grown tall enough that they're starting to sag, you should help prop them up by tying them to a cane; some examples of these perennials include hollyhocks and delphiniums.
When it comes to newly ripening fruits, they will need to be covered with either a netting or fleece to protect them from animals. While greenhouses can benefit from some added shading and ventilation at this time of year, installing either or both is a great way to keep temperatures down for your plants. Moving onto compost bins you will probably find that you have a lot more garden waste and your bin will need to be emptied more often, it can also be mixed to speed up decomposition.
There are a fair few pests you will want to keep an eye out for in June. Woolly aphids can be especially troublesome, found commonly on fruit trees; they can be treated with a soapy water solution. Greenhouses can also suffer from infestations of pests such as red spider mite or whitefly, these can be effectively dealt with by using biological controls. Similarly pots can also be used as a breeding ground for a number of different bugs, such as vine weevils. Start by giving your pots a quick spray over and then treat any infestations you find with the corresponding pesticides. Snails and slugs should be left alone unless you are experiencing them eating your plants. If so then it is time to either put out pellet bait, or go on the hunt with a hand tool to reduce their numbers.
Finally for your maintenance & protection jobs you are going to need to keep an eye out for any signs of disease or fungus growth in your plants, especially any roses you have. You can treat any plants showing these signs with an anti-fungal spray. Also make sure to dig out any weeds you find where possible, while using weed killer on the tougher variety. You can use a hoe in between your rows of plants to make sure no weeds have a chance to settle either.
Encouraging Plant Growth & Flowering
You'll find that encouraging your plants to grow in June mostly follows one key detail. Water! Your plants need plenty of water to stay hydrated, not only to survive but to also thrive in this hot month. Plants will need to be watered daily if the weather is warm, with the ideal time being either in the morning or the evening; try to use a fine spray as to not damage any of the leaves. Once plants begin flowering or producing crops they'll need even more watering as well, including such plants as beans, peas, tomatoes, etc. These plants will also benefit massively from being watered using a liquid feed such as tomato feed, this will give them all the nutrients they need to produce the tastiest crops or the most vibrant blooms.
When watering your plants you will have to take special care to remember all of the different plants you have both in your house and in any greenhouse, sheds or confined containers. All of these plants will need regular and abundant watering to stay healthy and full of life. While you are at it, newly laid turf will also need watering several times a week for the first month; this way it becomes fully rooted into the ground. While giving your lawns water you can also feed them with either a liquid of granular nitrogen rich fertiliser. There are also preventative measures you can take with all of your plants to help them keep in as much water as possible so that you don't have to water them as much. This entails spreading a bed of mulch around the base of your plants, other water retaining surfaces can also be used such as bark chippings.
You can tell that the months are getting hotter when we have a whole two paragraphs dedicated to watering!
Thanks to all the growth that is happening you probably have some plants that require some much needed growing supports. You will find this to be common among such plants as rambling roses, dahlias, etc. Simply tie their stems to a cane or stake to provide some extra support. New shoots of blackberries, raspberries and other cane fruits will also need to be tied to a support so that they can grow healthily. If you want your hydrangeas to have a more vibrant bloom, then now is the time to apply a colourant solution, these are available for both a deep blue or a rich pink colour. Bedding plants and fuchsias can be encouraged to have bushier growth by pinching out their tips. If you are growing any tomatoes on a vine, you will also want to pinch out any sideshoots. Finally asparagus plants will have one last harvest in them this month before you can leave their top-growth to grow over the summer months.
Pruning
Plants are growing rapidly thanks to all the sun and you need to hold back the green tide to stop your garden from turning into a jungle! But before you begin first you need to check your hedges, shrubs and other foliage for any signs of nesting birds before you start pruning. After doing this you can start with spring-flowering perennials, you will want to cut these back to encourage new growth. The same needs to be done for spring and summer shrubs, once they have finished flowering they will need any older stems removed; this includes shrubs such as choisya, kerria, ribes, etc. Fast growing hedges will also have an explosive growth at this time of year, they will need to be trimmed around every six weeks.
Furthermore variegated shrubs will need any fully green shoots to be cut back to their base, to produce the most varied colourful leaves. When it comes to crop plants, chives should be cut down to the base. While you might find yourself having trouble with other crop plants growing where they are not meant to be, such as raspberry canes. These plants will need to be pulled out if they have sprouted outside of their boundaries. Some plants might be growing too large, such as evergreen clematis plants, these can be freely pruned back into your desired shape and size. Wisteria will also need an in depth pruning to help promote flowering, with all sideshoots needing to be cut back to 20cm. When pruning it is best to use a high quality hand pruner or a telescopic pruner if you are needing to reach taller plants.
Planting
During the month of June there are plenty of planting jobs to be doing and we'll cover them all for you. Starting with summer bedding plants, which can be planted in pots or borders to add colour into your garden. Similarly marginal plants such as arum lilies, can be planted around the edges of ponds. House plants will also thrive outside on warm, bright, sunny days, just make sure to find them a more sheltered spot when night time comes. More tropical plants can also do well at this time of year but they will require a lot more space of their own to thrive and they will need to be removed to somewhere warm when winter approaches.
In terms of crops you have a few different options, starting with any tender vegetables you have been growing inside, such as sweetcorn, tomatoes, beans, etc. These can now be moved and replanted outside, giving them increased sunlight and a more natural growing environment. If you are going to be planting them in a container then adding some liquid feed can really help aid your plants growth. Be careful as some plants require hardening off before they are planted outside. You can plant these crops in hanging baskets or window planters if you are running out of room as well!
Propagation
A lot of the propagation jobs for June are about taking cuttings from other plants you have so you can make new plants later on. Starting with any houseplants you have such as primroses, begonias, etc. Softwood cuttings can also be taken from hydrangeas, pelargoniums as well as herbs such as sage and marjoram. These cuttings should be put in pots on a windowsill or in a greenhouse to maximise potential sunlight; the herbs will benefit from an added gritty compost. If you have any pinks, such as carnations then you can take cuttings from any shoots that don't have flowers.
Moving onto sowing, biennials such as foxgloves, wallflowers, etc can be planted into seed trays. Herbs can also be planted in pots, to be kept somewhere warm and sheltered such as a windowsill or a greenhouse. If you have any tulips that have finished flowering then their bulbs can be lifted and stored for future planting. Finally if you are keeping any planted summer bedding inside or in a greenhouse then you can now start hardening it off outside to make it ready for the coming summer.
And there you have it! That is all the jobs we have available for June, but make sure to come back in July to see our next lot of jobs that will make your garden a masterpiece to behold