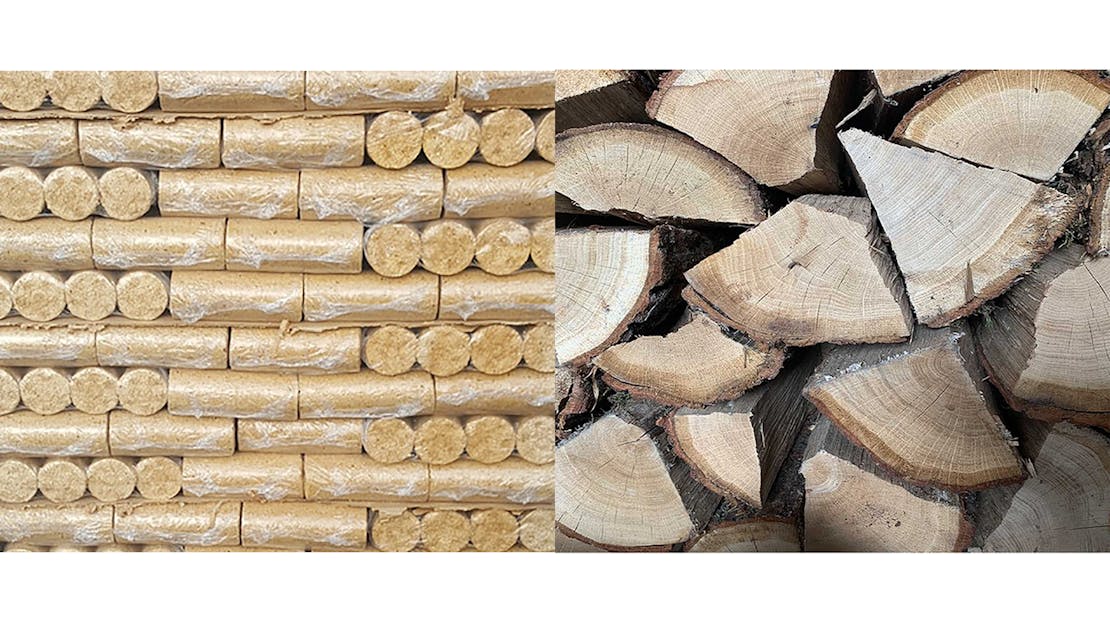 Briquettes and Heat Logs vs Firewood
Are you trying to choose between briquettes or logs?
Been using logs but fancy a switch up?
Tired of burning through logs too quickly?
In this guide we have a bit of an explanation of the difference between some of our all time favourite briquettes & our traditional kiln dried firewoods. As solid fuel merchants we make it our mission to understand how all of our products burn, and the best way to do that is to try them for ourselves.
What Are Briquettes?
In a nutshell, briquettes are cleaner; hotter; more economical; cost-effective and longer burning than firewood. This isn't opinion, this is purely due to the makeup of the product itself. A densely compacted, dry briquette has better burning properties than logs do. With a range of briquettes available, there's one out there to suit everyone.
Briquettes are a by-product from many industries, the majority are made from sawdust, chippings, shavings and bark, which means they recycle wood waste that would have gone to landfill if it wasn't used. This means they aren't being made from trees specifically felled to make fuel like logs are.
This being said, briquettes can be made from virtually any form of combustible biomass, including most types of agricultural (and even municipal) waste.
What are the types of Briquettes?
Wood By-product: made from sawmill by-products as seen above; such as shavings, chippings etc.
Sawdust Briquettes: The most popular type of wood briquette. They boast a moderate heat output, low price point and a long burn time.

Heat Logs: Made from very highly compressed sawdust that had a very low moisture content. They burn slightly hotter than the sawdust briquettes.

Bark: created using bark chippings, they tend to give a lower heat output but will tend to last a lot longer than the two above. They give out a consistent, slow burn with a steady heat supply.
Peat: (Is now banned for sale in the UK) Peat is another popular material used to produce briquettes, usually bog peat. Peat is the surface layer of soil that contains decomposed organic matter, mainly derived from plant material, which is then compressed and burns at very high temperatures. Due to the materials used to produce the briquettes they have a characteristic smell that many find nostalgic and charming but it's not for everyone.
Agricultural By-products: Rice Husks, Bagasse, Straw and Hay is being used more so in modern times to produce compact bricks used for heating systems. We however, currently don't stock any of this type.
How Are They Made?
The materials are collected in and go through a process of being dried, refined and shredded. They are then formed using intense pressure while containing no chemicals, no adhesives or additives. Due to this they are considered to be the most economical solid fuel available on the market.
Why are they popular?
With a moisture content of less than 10% they are compliant with the Woodsure Ready to Burn Scheme. This is a big contributory factor as to why they burn so well, the extremely low moisture content allows them to burn with a high heat output but a low smoke output.
They are more environmentally friendly than other fuels. Whilst we, as an industry, are constantly making moves closer and closer to being as environmentally friendly as possible, unfortunately some of our products are not possible to be completely environmentally neutral. Briquettes are as close as we are so far, with no mining and no trees being cut down to make them, they actually get rid of more waste than they ever produce.
How do you light a Briquette?
Step 1 - Open air control valves on your stove.
Step 2 - Start your fire as usual with kindling and a firelighter.
Step 3 (optional) - If you have a smaller stove then break up your briquette so it will fit. The block shaped briquettes shouldn't need breaking down, however the log shaped briquettes may be too long.
Step 4 - Once your kindling has a healthy flame, place the briquette on top, leave enough room for the air to flow.
Top up and tend to as required.
So, in the end?
Briquettes:
CO2 Neutral.

Cost-effective.

Attractive Flame

Homely Aroma

Great Heat Output.

Ready to Burn Certified.

Longer Burn than Firewood.

100% Renewable Fuel Source.

Produced using Wood from Sustainably Managed Forests.

Eco-Friendly: made as a By-product from Sawdust, Shavings, Chips and Bark.
Firewood:
Low CO₂

Long Burn

Homely Aroma

Attractive Flame

High Heat Output

Low Ash Residue

Fairly Easy to Light

Low Smoke Output
That concluded our article on Briquettes / Heat Logs Vs Firewood. Hopefully you have found out some new information about the differences between the two. We have a number of other great guides about firewood or also about wood briquettes! So why not check them out. Or you can check out our full range of premium solid fuel!