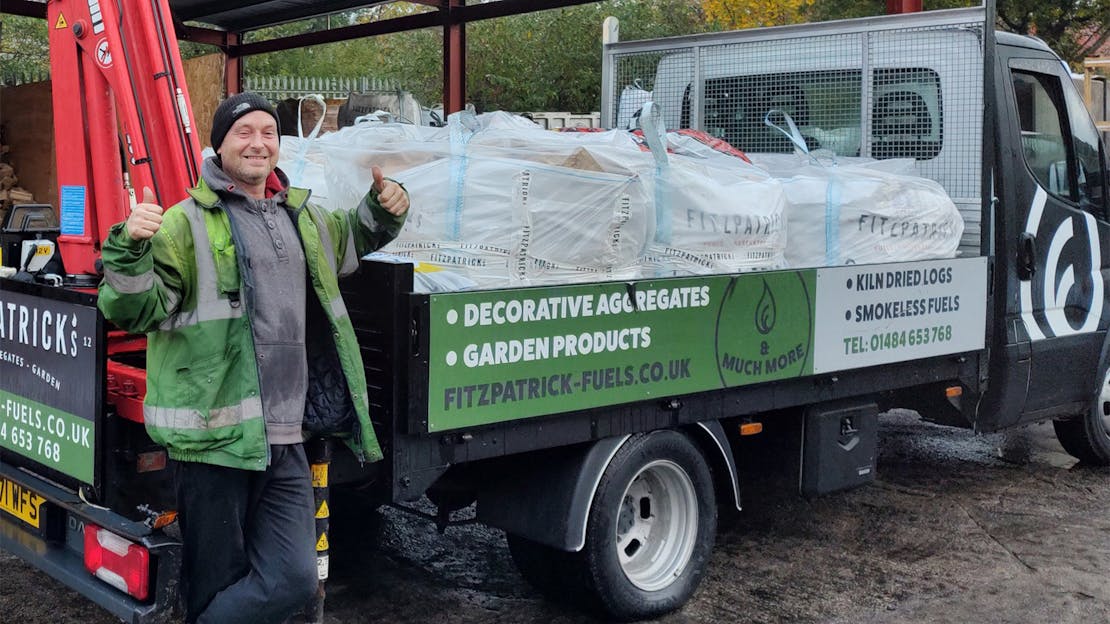 Experience Fitzpatrick Fuels Logs & Delivery
Elevate Your Fireside Experience: Discover the Premium Quality Kiln-Dried Firewood and Crane-Off Delivery Service by Fitzpatrick Fuels
As the chill of winter settles in, there's nothing quite like the warm embrace of a crackling fire to create a cosy and inviting atmosphere. If you're in Huddersfield or the surrounding areas, Fitzpatrick Fuels is your go-to destination for premium quality kiln-dried firewood and a unique crane-off delivery service that takes convenience to new heights.
At Fitzpatrick Fuels, we understand that the key to a perfect fire lies in the quality of the firewood. That's why we take pride in offering premium kiln-dried firewood to elevate your fireside experience. But what sets kiln-dried firewood apart from the rest?
1. The Kiln-Drying Advantage: A Superior Burn
Kiln-drying is a process that sets our firewood apart. Unlike traditional air-drying methods, kiln-drying allows for precise control of temperature and humidity, resulting in firewood with an optimal moisture content of 10-20%. This low moisture level ensures a hotter, more efficient burn, providing you with the warmth and comfort you desire.
2. Clean Burn, Clean Conscience: Environmentally Friendly Heating
Fitzpatrick Fuels is committed to environmental responsibility. Our kiln-dried firewood produces a clean burn with minimal smoke and emissions, contributing to a healthier environment. By choosing our premium firewood, you not only enjoy a cosy fire but also make a conscious choice towards sustainability.
3. Quick Ignition: Instant Comfort On Demand
When the temperature drops, waiting for your fire to catch can feel like an eternity. With Fitzpatrick Fuels' kiln-dried firewood, quick ignition is a guarantee. Our firewood ignites easily and burns consistently, ensuring you can enjoy the warmth of your fireplace or wood-burning stove on demand.
4. Reduced Residue, More Enjoyment
Say goodbye to the hassle of frequent cleanup. The low moisture content in our kiln-dried firewood means less ash and residue left behind after burning. Spend more time savouring the warmth and less time maintaining your fireplace or stove.
5. Pest and Mould-Free: A Healthy Heating Option
Indoor air quality matters, especially when it comes to heating your home. Our kiln-dried firewood is not only low in moisture but also free from pests and mould, providing a healthy and hygienic option for indoor heating.
Crane-Off Delivery: Elevating Convenience to New Heights
At Fitzpatrick Fuels, we understand that convenience is key when it comes to heating your home. That's why we offer a unique and convenient crane-off delivery service that sets us apart from the rest.
1. Precision Placement: Exactly Where You Need It
Our crane-off delivery service is designed with your convenience in mind. Whether you have limited access or simply want the firewood placed in a specific location, our crane can precisely position the firewood right where you need it. No more heavy lifting or manoeuvring required on your part.
(Please note, the crane does have its limitations! Such as height and reach. If you are worried about the access to your storage area, please call us on 01484 653 768)
2. Friendly and Efficient Service: Your Satisfaction is Our Priority
At Fitzpatrick Fuels, we take pride in our friendly and professional delivery service. Our team is dedicated to ensuring that your premium kiln-dried firewood arrives promptly and is placed with precision. We believe in going the extra mile to exceed your expectations.
3. Convenience Redefined: Save Time and Effort
Gone are the days of struggling with large piles of firewood or dealing with the inconvenience of traditional delivery methods. Our crane-off delivery service is a game-changer, saving you time and effort while providing a hassle-free experience.
4. Service Tailored to You: Customised Delivery Options
We will always provide you with a day that your order will be delivered, if that day is not suitable we will work with you. Whilst we cannot guarantee a delivery time, we will try our best to give you a guideline if you call us.
Why Choose Fitzpatrick Fuels?
Choosing Fitzpatrick Fuels for your premium kiln-dried firewood and crane-off delivery needs is not just a choice; it's an investment in quality, convenience, and a better heating experience.
Here's why our customers keep coming back:
1. Quality Assurance: Uncompromising Standards
Our commitment to quality is unwavering. We source and produce only the finest kiln-dried firewood, ensuring that each log meets our stringent standards for excellence. When you choose Fitzpatrick Fuels, you're choosing the best for your home.
2. Local Expertise: Serving Huddersfield and Beyond
As a local business, we understand the unique needs of our community. Our crane-off delivery service is designed with the local landscape in mind, providing a service that is tailored to the specific requirements of Huddersfield and the surrounding areas.
3. Customer-Centric Approach: Your Satisfaction Matters
At Fitzpatrick Fuels, customer satisfaction is at the forefront of what we do. From the quality of our firewood to the precision of our crane-off delivery service, we prioritise your needs and aim to exceed your expectations at every step.
Order Your Premium Kiln-Dried Firewood Today!
Elevate your fireside experience with Fitzpatrick Fuels' premium kiln-dried firewood and the convenience of our crane-off delivery service. Whether you're in Huddersfield or the surrounding areas, we're here to bring warmth, quality, and ease to your home. Place your order today and discover the difference that premium firewood and exceptional service can make in your heating experience.
We can't wait to hear from you! Fitzpatrick Fuels – where quality meets convenience for a fireside experience like no other. if you would like to read any of our other great articles, then we have a wide range of high quality articles.