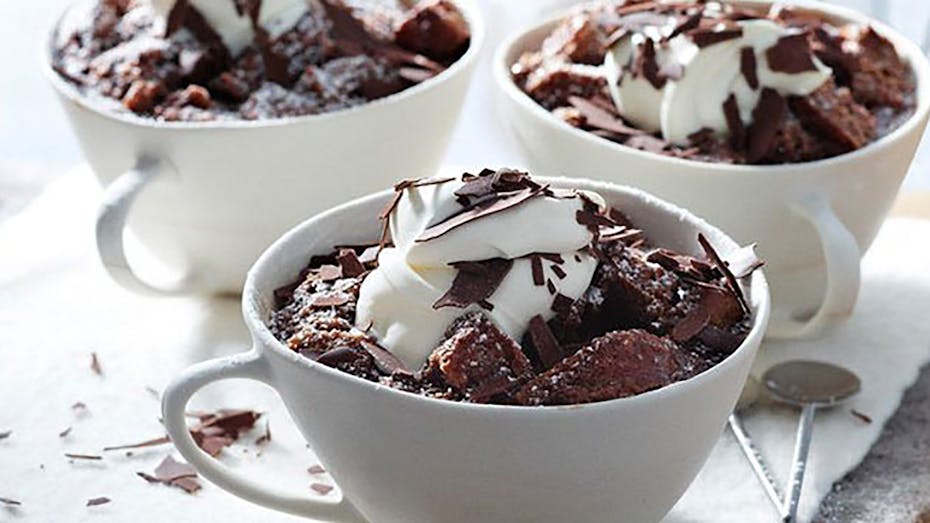 Winter Warmers - Spiced Chocolate Bread Pudding
Prep Time = 30 mins
Cooking Time = 35 mins
Makes = 8
An old school favourite with a twist to keep you on your toes.
Ingredients
600ml Thick Cream
250ml Milk
2 Cinnamon Quills
1 tsp Vanilla Extract
150g Milk Chocolate – chopped
100g Chilli Chocolate – chopped
75g Caster Sugar
4 Egg Yolks
2 tbsp Dark Rum (optional)
400g Brioche Loaf – roughly chopped
150ml Creme Fraiche
1 tbsp Icing Sugar
Shaved Chocolate/Powdered Cinnamon/Icing Sugar to serve
Step 1:
Combine milk, cinnamon, vanilla and 500ml of the cream in a pan over medium heat. Bring to a simmer and then pour into a bowl containing both the milk & chilli chocolate. In a separate bowl whisk caster sugar and egg white until pale. Whisk in the chocolate mixture until combined, add the rum and stir through.
Step 2:
Place the brioche pieces in a large bowl and strain the chocolate mixture over the top. Allow this to stand at room temperature for 30 minutes, occasionally pushing down on the brioche so it can absorb the liquid.
Step 3:
Preheat the oven to 180℃/ 160℃ Fan/Gas Mark 4 and lightly grease 8 individual ovenproof dishes. Divide the brioche mixture evenly between each dish and place in a deep baking tray. Pour boiling water into the tray upto halfway up the sides of the dishes. Bake for 25 minutes or until they have just set.
Step 4:
Whilst the puddings are baking, whisk the remaining 100ml of cream with creme fraiche and icing sugar until it forms soft peaks. Spoon onto the puddings and decorate to serve.
This guide talks about the key differences between Coal & Charcoal and why you don't want to get them confused. As misuse of either can lead to you or the people nearby to become ill or worse.

Want to add an authentic, smokey taste to your food? This guide gives you all the information you need on different types of charcoal and cooking woods.

To help you choose your charcoal we've made this guide to go through the most common options available and the advantages and disadvantages each one presents.

This guide will help you achieve full flavoured cooking, no matter what BBQ you are using. Adding an extra distinct kick to all of your food.

This guide will help to teach you some of the various different styles used when BBQing.

Asado is much more than just a barbecue or way of cooking meat.

Braai is an outdoor cooking based social custom originating with Afrikaner people but has been adopted by South Africans of many ethnic backgrounds.

Looking for some BBQ inspiration? Check out this Salt & Pepper Tofu skewers recipe. Perfect for a night of entertaining friends & family round the BBQ.

Planning a BBQ but not sure what to cook? Here is a recipe we love for some inspiration.

A tummy warming low-calorie casserole with a little kick.

An old school favourite with a twist to keep you on your toes.

A cheap, quick and easy winter favourite! Comfort in a bowl and the best bit, make extra to freeze for future meals.

Super indulgent chocolatey hot drink to warm you up from head to toe whilst satisfying those sweet cravings!