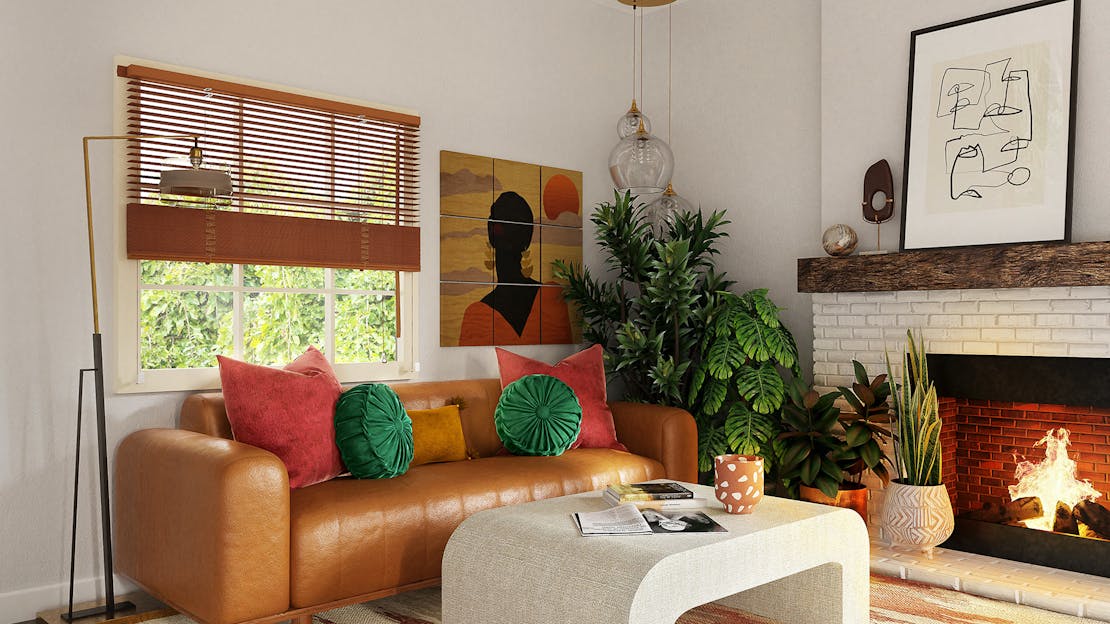 Tips For Decorating Your Fireplace
A beautiful, eye-catching fireplace is a good centre point for any living room. Bringing character and life to any living space is key to achieving a homely feel, fireplaces can be great for adding to this. With their
As a prominent feature it's the perfect platform to reflect your personal style. However, sometimes it can be hard to decide how to decorate your fireplace so it's practical and doesn't look too busy.
We have done some research and sourced some information on how best to decorate your mantelpiece and fireplace so have put it all together into a handy tip sheet for you.
*Always ensure any decorations are a safe distance from the fireplace or are moved aside when the fire is lit to ensure safety. Not all decorations can withstand the heat of the fire so may need moving temporarily when the fire is alight.*
1. Create Layers
Creating layers of depth can help to bring features to the mantle without over-doing the space. Layer 1 is your "Anchor", this could be a mirror, picture or a large clock. This goes on the wall above the mantle or stands up on top of the mantle but towards the back.
Layer 2 is the "Weight". These are items like candle sticks or tall flowers etc. They add some height and weigh out a balance between the items you are using to decorate. We would suggest placing these on either side of the fireplace or mantle piece. They do not need to match.
Layer 3 is optional depending on how full you want your decoration to be. This is called the "Filler", they are various items of height and size that can be arranged haphazardly rather than uniform. They just add an extra layer of depth.
2. Rustic Beams
This may be harder if your fireplace has already been fitted but is something you can still consider. The use of rustic, exposed wooden beams is often a very popular appearance when it comes to fireplaces.
The use of a supporting beam when building a fireplace is required however, some choose to have it concealed by plaster and paint to match the surrounding walls. But, more and more recently it's being seen where people are using a wooden support beam, typically made of Oak or Hornbeam as they are strong wood, which is then exposed to create a more rustic feel.
If you already have a fireplace installed but like the idea, using a thin cut of wood as a faux beam could create the look you desire without a complete upheaval.
3. Fairy Lights
Fairy lights are well known for being a decorative favourite. They are perfect for brightening up any dark spaces without the need for a large lamp etc. Spread across the fireplace, mantlepiece or weaved between decorations to pull the decorations together for the final touch. If you are limited for space consider putting them inside a glass jar for a lantern effect or incorporate them into your fuel storage.
4. Candles
Candles look great around the fireplace for adding some cosy vibes. They also benefit from a dual purpose, not only do they look great but they also smell good, by having them near the fireplace occasionally you can get away with not having to burn them but the heat from the fire can cause just enough heat to get the candles to release their fragrance as they would when they were burning.
Alternatively having them lit when the fire is going can create wonderful scent combinations with the smell of the fuel burning.
5. Using your storage
Fireplaces don't need to be messy as some seem to believe. Stacking wood in a store or putting coals in a nice coal hod bucket can add some character, help to keep everything tidy and fit in with the theme of the room. With a variety of designs, colours and styles available it doesn't matter if you are modern, contemporary or rustic leaning, there's something for everyone.
6. Fireside Accessories
Accessories with practical uses, such as companion sets, can be used to dress up your fireplace. There are many styles and designs available on the market to match the overall theme of your home and add that extra bit of personality to your fireplace. They are also practical in helping to tend to your fire and keep the surrounding area clean.
7. Keep it Clean
Making good use of fireplace cleaning products can keep your fire looking spic and span. This is ideal for people who want their fireplace as a focal point in the room, you don't want your focus to be on how messy the fire is. A clean fire presents a beautiful, homely and comforting feature within a room. Our fireside maintenance range is the perfect handy helper to keep a tidy fireplace.
Hopefully this guide has helped you with ideas on how to decorate your fireplace. If you are wanting to expand your knowledge of burning or of stoves and appliances, then we have a wide range of informative articles that are sure to prove helpful.
This cost of living crisis is proving hard for a lot of families and we're here to help. In this guide we'll offer a number of different ways you can keep your energy bills down.

Lighting a fire for the first time can be a bit tricky. In this guide, we explain the easiest way to light a fire that will burn for the night.

In this guide we'll discuss the variety of ways to use Multi Fuel Stoves and the standard best ways to use them. Along with the standard fuels used with them.

When burning fuels in a stove, there are a lot of different options for fuel. Here we will discuss coals and the benefits of using Smokeless Coal over House Coal.

Here is our step by step guide on how to light your fire using our smokeless fuels & to keep your fire going once its lit.

Storage is key to keeping your fuel in tiptop shape to ensure you get the best burn out of it. This may or may not be simpler than you think.

In this guide, we go through all the steps to take to give your fireplace a good deep clean to get it back to tip-top condition. Including home cleaning products.

A beautiful, eye-catching fireplace is a good centre point for any living room. Bringing character and life to any living space is key to achieving a homely feel, fireplaces can be great for adding to this.

Upcycling and reusing has become increasingly popular over the last few years. Who doesn't love giving themselves a project to get stuck into. Here's some ideas...

With winter on its way, it's time to get everything prepped before the cold weather hits. Here are our top tips to get everything in place and ready to go.

Each year people sit and plan how to deck out the entire house for the festive season. So, if you are struggling for some inspiration, here's a few ideas to help you on your way.

We've made a list of some of our all time favourite things to do during the colder months incase you are struggling for inspiration.

Are you wanting to buy a family member or a friend something practical that they will use this year? Do they have a fireplace in their home? Look no further, we've got some ideas for you!